Your website or blog is up and running smoothly and you should keep it that way. Here is one tool to make it is a little easier to keep your blog or website is running well.  This is the first in a series of posts.
Domain Name
Your domain name is the foundation. Without it you have no visitors, commenters or buyers.
Businesses large and small often neglect to consider domain names as vital corporate assets.  This leads to domain names expiring which brings down their entire Internet presence, including email.
This is especially problematic with organizations and non-profits because well-meaning people come and go and don't leave a well documented paper trail with URLs, account names, user names and passwords.

Every registrar keeps information that you provide so that they can contact you to renew your domain name.  When you need to collect and verify information about a domain name a site like Domain Tools is a great resource.
I have a JavaScript short cut in my browser that takes me to this site to check sites. The results page has five tabs
Here is what I look for.
One Whois Record Page
Who is the registrant? Hopefully the person I am speaking with.
Is the contact information correct?
Do the Registrant, Administrative and Technical contacts all list different information? The more ways a registrar can contact you the better.
On the Registration Page
Who is the registrar?
When was the account created?
When will it expire?
If I recognize the name server that will tell me who is hosting the site.
The Server Stats page shows me
Whether the site is hosted on Windows or not.  I hope not. 😉
Where geographically the site is hosted.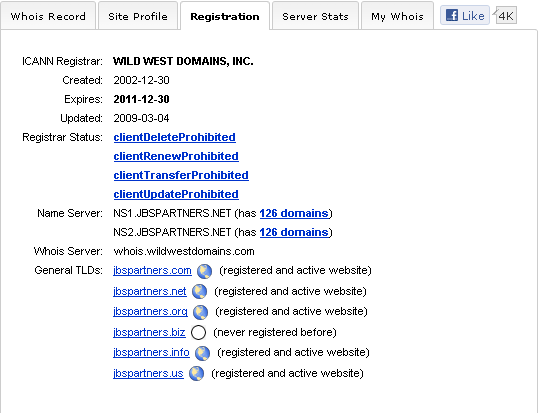 It is worth the free registration to see the full information on the Whois Record page.
Store your domain name registration account information with your other important papers.
I have seen client sites go down and I have seen clients lose their domain names entirely. Be sure to log-in to your domain registrar account or at least visit Domain Tools to make sure that your account information is up to date and correct. Do this every year, like changing the battery in your smoke alarms,  along with confirming where the login information is stored.
Have you found this or similar tools useful? What suggestions or experiences do you have?