Is this real? I received the letter below in the mail. But because I develop websites and provide hosting I often get questions from clients about similar letters and emails.
These offers are for real domain names that we own.
Even though the domain names are immediately recognized, the fees and the name of the company charging the fee are not. These are the clues that something is not right.
The "Website Listing Service" is a scam. The letter says that details are available on their website, however, there is no website at domain-listings dot org. I have also seen an alternative domain used, domainlisting dot directory. Neither domain has a site that is up and running.
Here is the letter.
The "Domain Listings" Scam Letter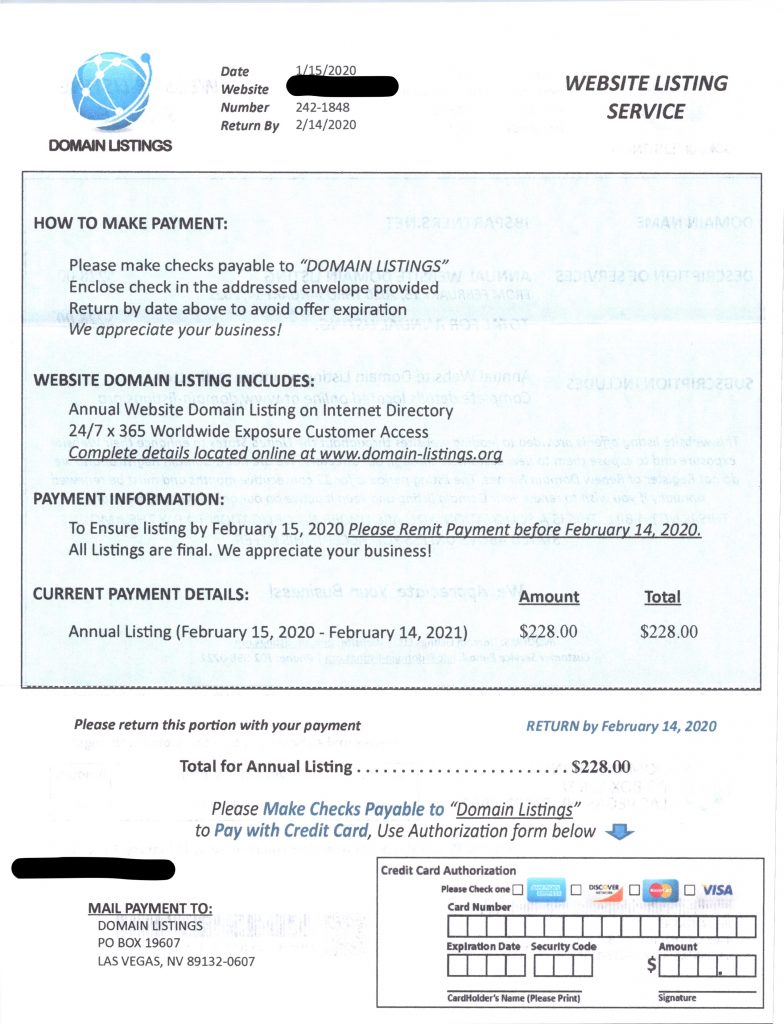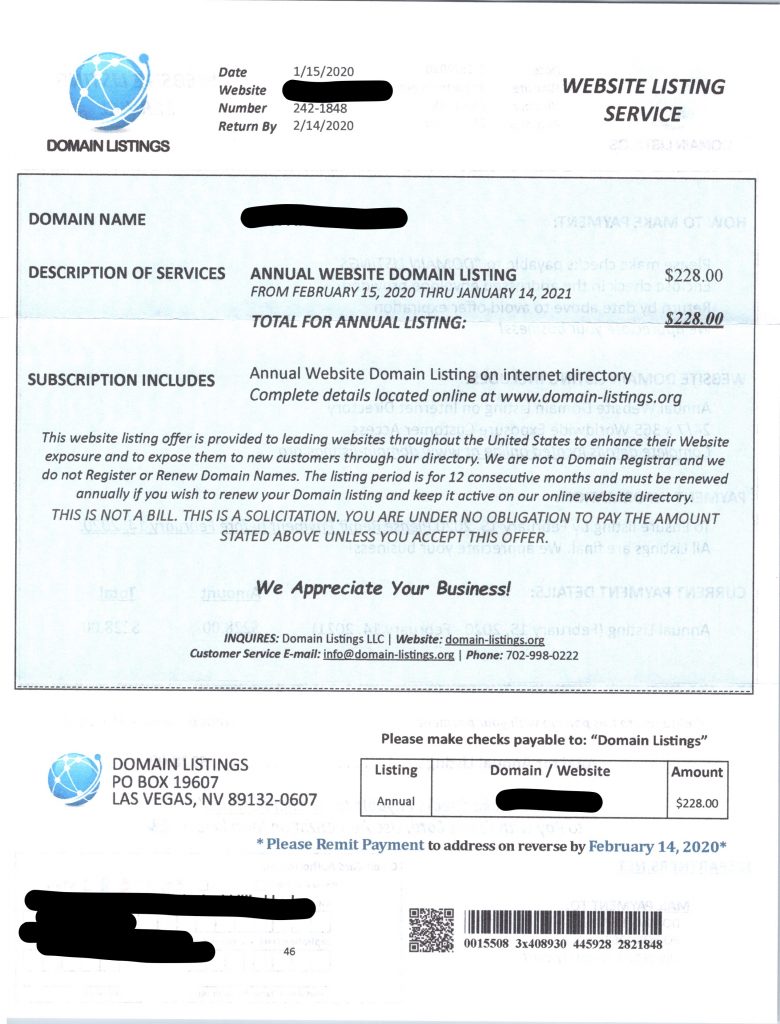 Many have confused this for a domain renewal letter. It is not that either.
You can read on BBB https://www.bbb.org/us/nv/las-vegas/profile/directory-advertising/domain-listings-llc-1086-90027166/complaints that there have been complaints about this Las Vegas-based business over the years. 105 complaints are not trivial.
On the BBB website, the company replies to many complaints with the following text:
What you received from us is a solicitation. We offer companies the opportunity to list their domain names on our online directory domainlistings.directory . In return your customers can give feedback / ratings , Your company can customize your listing however you would like, add pictures, promotions or events and possibly we can help drive more traffic to your web-page. We will place *************** on our do not contact list so you will no longer receive our solicitations. I hope this clears up any concerns you may have had. Thank You, Management
The company has a D- rating on the BBB website.
How to Protect Yourself from the Scam
Read the document, especially when it looks like an invoice, slowly and carefully, to be clear about what is being offered or asked.
In situations when you are not clear, contact your web, marketing or Internet professional and ask. When you receive a printed letter snap a photo with your phone and send the document along.
If it looks like a domain name renewal letter, verify what company you registered your domain name with, and determine if the letter is from that company or not. I have used https://whois.domaintools.com/ for many years to look up where a domain name was registered. Nearly all domain registrars send renewal notifications by email, not letters through the postal service.
If there is no phone number listed on the letter, this should immediately raise a red flag in your thought.
Search the Internet. See if their site is operational. Add the word scam to the company name then search and read the search results.
You may choose to register/purchase a domain name privacy service from your registrar. This will hide your name, address and registration information and therefor prevent companies from scraping that information and then sending you letters or emails like this one.
There is no need for a directory listing. No need to spend $228 here. Please read letters and emails carefully to avoid being scammed by this kind of intentional effort.
Have you seen this or similar letters? Let us know in the comments below.